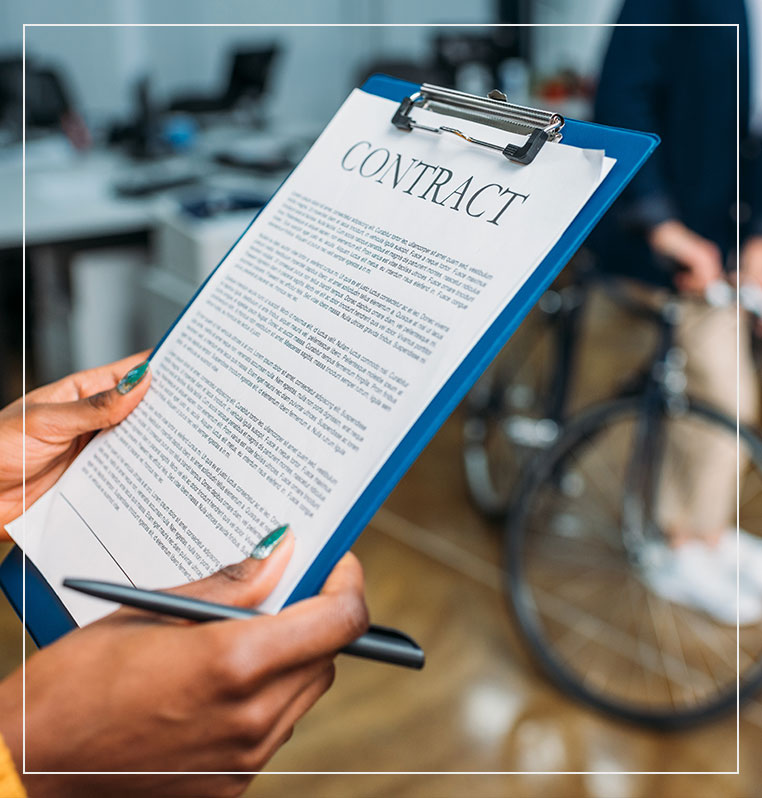 THE LEADING BUSINESS CONTRACT LAWYER IN HOUSTON, TX
Protect yourself and your business with a dedicated business contract lawyer. We work with our clients to make sure they are only signing contracts that are in their best interest.
SAVE MONEY WITH A PROACTIVE APPROACH TO BUSINESS NESS CONTRACT LAWYER IN HOUSTON, TX
A good lawyer might be able to get you out of a business contract you've signed, but there are no guarantees. Additionally, it might cost you a sustainable amount of money and severely limit your ability to do business.
Save money by investing in an excellent business contract lawyer before you sign a contract. Our Houston business contract lawyers are here to help ensure you understand the documents you are signing and agree to the terms. That way, there are no hidden surprises.
If you want to protect yourself from the start or have a business contract that you need to negotiate, give us a call. We are here to help you protect your business so you can get more business done. Work with the best contract lawyer in Houston today.
GROW YOUR BUSINESS WITH CONFIDENCE
The truth is that business contracts are a part of doing business. They lay out the terms of your agreements with other entities and allow you to protect yourself while selling your services or purchasing the services you need for your business.
Your business can't run without these vital documents, but they might contain terms and conditions you aren't sure about. Our highly-skilled team of Houston business contract lawyers can help you navigate these documents so you know what to expect.
Even if you come from a legal background or have been doing business for decades, it's always a good idea to have a lawyer by your side to provide a second set of eyes. Let us help you ensure that you are making the right decision for your business.
In addition to reviewing contracts sent by clients or other businesses, your business contract lawyer can also draft your contracts for you, giving you peace of mind knowing that they are written properly and protect you from liability.
Our Houston contract lawyers have the extensive knowledge and experience you need to create a powerful proposal that tips the playing field in your favor while protecting you from liability. These professionally written contracts will become your roadmap to success. The best part is that you don't have to do it yourself, so you can focus on fulfilling your end of the agreement, not juggling legalese.
NEGOTIATE A BETTER FUTURE AND BUILD A TOP-NOTCH REPUTATION
You appreciate your clients, suppliers, partners, and everyone else who makes it possible for you to run and grow your business. You want to work with them, not against them. We help you negotiate the terms of your contracts so that everyone wins. Build better business relationships with your network by providing fair and honest business contracts with favorable and transparent terms.
When you work with an experienced business contract lawyer, you will know you and your team are in good hands. We make it easier for your business to provide the transparency and honesty your clients and associates deserve. This will make them eager to continue to work with you.
TYPES OF CONTRACTS WE HANDLE
At Hayes Hunter P.C., we can handle any type of business contract. Some examples include:
At Hayes Hunter P.C., we can handle any type of business contract. Some examples include:
These are just some examples of the contracts we work with, but we can handle any type of business contract. The reality is that anytime you sign your name to a legally binding document for your company, you'll want a business contract lawyer by your side.
WE'RE READY TO FIGHT FOR YOU
Even the best-laid plans fail, and you might find that you or the other party cannot meet the terms of the contract you signed. While it can be nerve-wracking when that happens, there is usually a favorable solution that allows both parties to benefit.
The Houston business contract attorneys at Hayes Hunter can negotiate or renegotiate a new contract for you and limit any financial ramifications. If we cannot come to an agreement with the other party, we have the courtroom experience to fight for you if necessary. No matter what the outcome, we are here to support you every step of the way.
How our business contract services work
If you need help with a contract and want to ensure you are getting a good deal or providing fair terms, get in touch. We take the time to understand your business and contract needs.
2
WE EXAMINE EVERY WORD OF YOUR CONTRACT
Or we draft a contract for you from scratch. We do our due diligence to make sure your business is protected from liability.
3
WE'RE READY TO NEGOTIATE ON YOUR BEHALF
Whether it is a new contract or you need to change the terms of an existing agreement, our Houston business contract lawyers are prepared to provide you with the guidance you need to feel confident in what you are signing.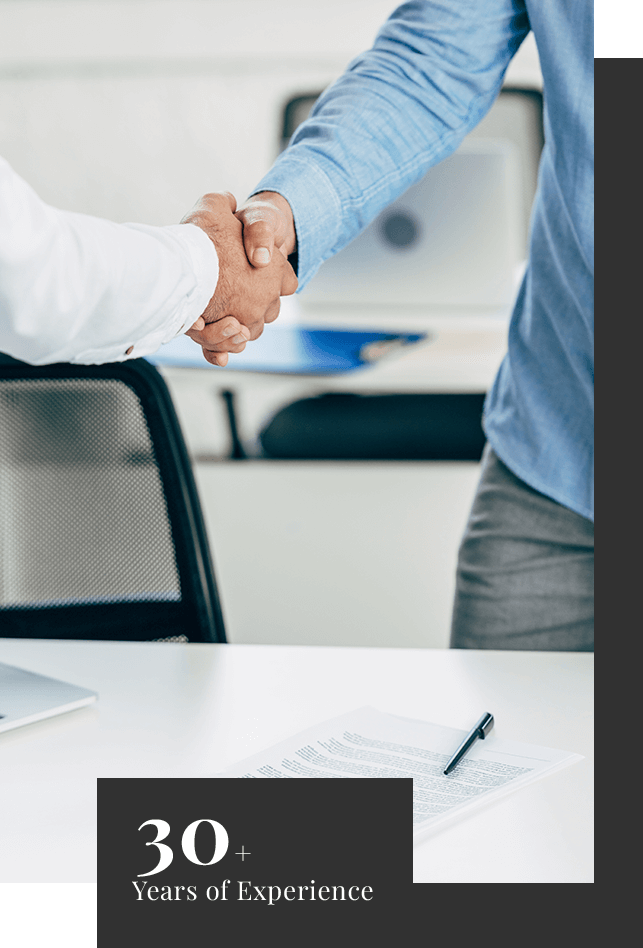 HOW MUCH DOES A BUSINESS CONTRACT LAWYER COST?
Our services are an affordable investment into your business. We work with you to make sure you avoid costly business mistakes and work hard to provide competitive rates to all of our clients. Get the peace of mind you need at a price you can afford. Get in touch to learn more.
What our clients say about us...
Charlie has become my company's attorney this past year. We have had several incidents where he has been remarkably responsive and thorough. He is very fair about his time, and with his deep experience, gets the matter handled much more effectively and at a lower cost than our prior firm's associates delivered.
GROW YOUR BUSINESS WITH THE BEST HOUSTON BUSINESS CONTRACT ATTORNEYS
If you are ready to partner with a dedicated Houston business contract lawyer, give us a call today. We have your back in all of your business negotiations. Let us help you grow with confidence and integrity.