THE BEST HOUSTON BUSINESS LAWYERS FOR BUSINESS FORMATION
Have you been thinking about launching a business? Are you actively planning to do so? If so, you need a Houston business lawyer. Someone with legal experience and expertise who can help launch your business?
The business formation lawyers at Houston's Hayes Hunter PC are ready and waiting to help you get off to a great start!
THE WORK OF A BUSINESS FORMATION LAWYER IN HOUSTON
Given our region's growing economy, business lawyers in Houston often choose a practice area like business formation to help the many aspiring entrepreneurs achieve success with their small business or corporation plans. This is the case for the Houston business lawyers at Hayes Hunter PC.
You might be wondering how, specifically, a business formation lawyer can help you with the business launch and in the months and years to follow. It might surprise you what all this individual can do to help — including some areas you might not have thought were within the purview of a law firm.
WE ADVISE YOU ON THE MOST SUITABLE BUSINESS ORGANIZATIONAL FORM
A business formation lawyer helps you better understand the various organizational forms available to new businesses and how to choose the best for your prospective or newly launched enterprise. The most common business organization forms include sole proprietorship, C or S corporation, limited liability company (LLC), and limited liability partnership (LLP).
The form of organization you select for the new business will affect matters such as how the business is taxed, its legal liability, formation costs, and operational costs. Since business forms range from the simple operations of sole proprietorships to the complexities of corporations, you need a business lawyer in Houston to help you plan for any present or future needs.
WE ORIENT YOU TO TYPICAL BUSINESS LAUNCH-RELATED EXPENSES
The start-up costs for a new business could include occupancy expenses like rent, renovations, utility costs, furnishings, equipment leases, supplies, etc. They also might be employee salaries or wages, lawyer and accountant fees, and other compensation for services rendered. And let's not forget inventory costs, marketing expenses, and miscellaneous fees.
WE HELP YOU DRAFT ESSENTIAL BUSINESS LAUNCH DOCUMENTS
Some of the necessary documents that can benefit from a business attorney's help include all the required partnership agreements (for new partnerships), articles of incorporation and bylaws (for new corporations), and articles of organization and operating agreements (for new LLCs). We also help with employment policies and non-disclosure agreements.
WE EXPLAIN WHAT TAX FORMS YOU WILL NEED TO LAUNCH A BUSINESS
We strongly recommend the services of a part-time or freelance tax accountant to help you keep track of your business tax considerations. However, we can get you started by going over the types of tax forms specific to your business's organizational form. For example, you will need any new employees to complete the I-9 tax form — or the W-9 for independent contractors.
We assist in securing various types of business license and permits
1
WE ADVISE YOU ABOUT PURCHASING BUSINESS INSURANCE
There are multiple kinds of business insurance that a new business might need. Policy types include general liability, commercial property, business income, business liability, workers' compensation, business continuation, data breach, commercial umbrella, and commercial auto.
Of course, most businesses won't need every one of these insurance policies. However, we recommend speaking with your business formation lawyer for recommendations on the types you need for your specific business.
2
WE CAN HELP YOU APPLY FOR AN EMPLOYER IDENTIFICATION NUMBER (EIN) IF NEEDED
An Employer Identification Number, also known as the Federal Employer Identification Number or the Federal Tax Identification Number, is a unique nine-digit number assigned by the IRS to business entities operating in the United States for taxes and other identification reasons.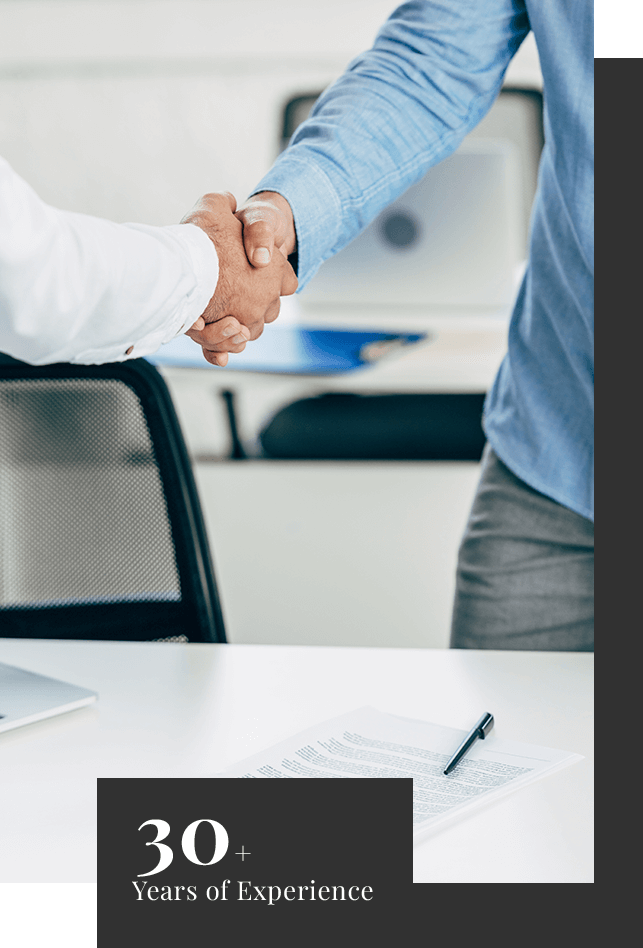 BENEFITS OF RETAINING YOUR HOUSTON BUSINESS LAWYER AFTER YOUR BUSINESS LAUNCHES
As you can see, there is a lot involved in a business launch, and a business formation lawyer can be of tremendous help. But what happens later on, once things have settled into place, and things seem to be running smoothly? What if you continue to need legal advice? Even after starting your company, you will need a reliable attorney to advise you.
What if there's a lawsuit? Or you need assistance drafting contracts? What if you want help protecting your intellectual property, sharing wisdom regarding real estate leases and agreements, or any other legal matters that might come up? In other words, when you need our services, we will be there to support you.
IN THE WORDS OF OUR CLIENTS
Charlie has become my company's attorney this past year. We have had several incidents where he has been remarkably responsive and thorough. He is very fair about his time, and with his deep experience gets the matter handled much more effectively, and at lower cost then our prior firm's associates delivered.
Charles Hunter has provided excellent services and put his first-rate knowledge of the law on full display. He is professional, extremely reachable and responsive. He takes time to get to know you and your case. Because of my own experiences with Charles, I have referred several new clients to him and they are super pleased.
ASK US ABOUT A FREE CONSULTATION
At Houston's Hayes Hunter PC, we offer free consultations to those considering business launches. Our highly qualified legal team will be happy to answer any questions and discuss your situation and needs with you at your convenience.