Businesses that uncover new ways to create awareness and drive sales opportunities tend to have more success. Certain actions can improve your business outcomes–no matter if you are a start-up or an established business. One thing that any business can benefit from is forming partnership agreements.
As a start-up, partnership agreements can open your business to new processes and new networks of customers. For established businesses, partnership agreements can help bring fresh ideas. They also can help with new product offerings that attract new customers.
If you are the owner of a business and aren't sure about what partnership agreements are or how to form them, this article is for you. Here is everything you need to know about partnership agreements and essential contracts.
WHAT ARE PARTNERSHIP AGREEMENTS?
A partnership agreement is essentially a business contract or a legal document. It provides specific information about a partnership.
The way that partnership agreements are formed is by two entities forming a strategic business relationship. Typically you will find information about management structures and ownership. There will also be information about the rights that each partner has in the agreement.
Other details that will be contained in a partnership agreement can include specific duties and how profits will be shared. Although written partnership agreements aren't a legal requirement, they are highly recommended.
A written agreement can help prevent or remedy conflicts that may arise during the partnership. This is especially true for startups and smaller businesses.
HOW CAN PARTNERSHIP AGREEMENTS BENEFIT START-UPS?
A partnership agreement can take a startup business from good to great. One of the many benefits of entering into a partnership agreement as a startup is gaining access to working capital.
Another benefit for a start-up entering into a partnership agreement includes more resources. That could be in the form of knowledge, more staff, or enhancing current product features. The right partnership agreement can speed up growth for a company.
Partnership can help a company achieve more revenue quicker than it would have without a partner.
For example, let's say a mid-sized SAAS-based company created a new plugin. This plugin is to be used on social media to aggregate user-generated content from social media.
That same company could be willing to partner with a start-up that allows companies to curate content around the web.
The company that is larger could help the startup by providing capital support for the development of the new plugin. They could also increase the marketing exposure for the new product. Not only would that benefit the startup, but the SASS-based company can also benefit from wider adoption of its new product.
HOW CAN PARTNERSHIP AGREEMENTS BENEFIT ESTABLISHED BUSINESSES?
If you are an established small business looking to enter into a partnership agreement, there are notable benefits for doing this. Your business can become larger than it is right now in a quicker manner. Sometimes in business, certain goals may be out of reach due to company limitations.
Partnering with another business can help with that issue. When an established business enters into a partnership, it can increase productivity. Having a company support operations can also improve the current standings of a business.
One other benefit of an established business entering into a partnership agreement is the ability to spread the risk of growing. Taking on new business projects can always present a risk, yet having the right partnership can make things less risky.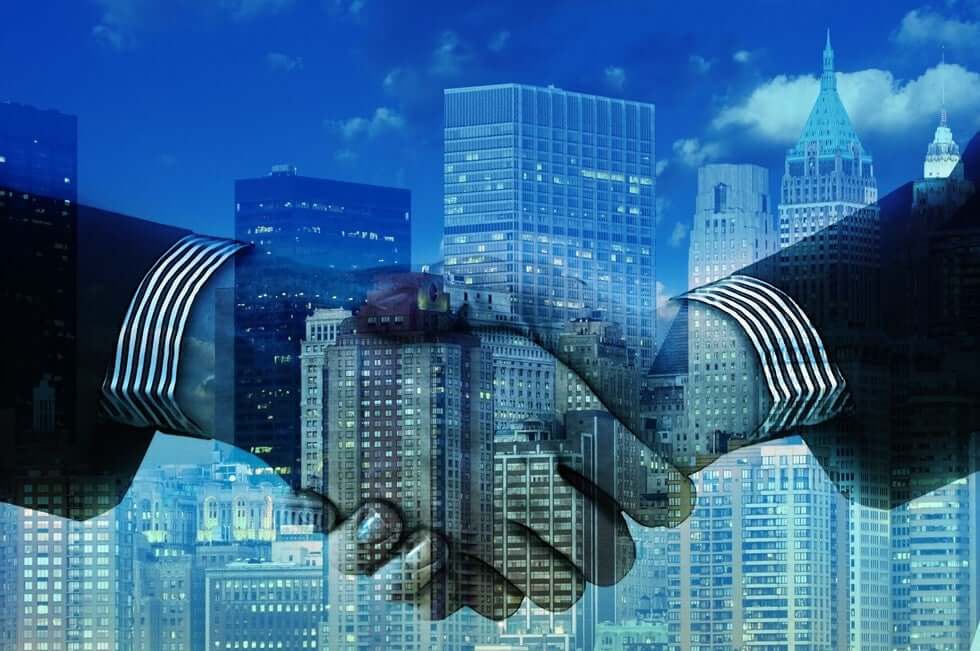 THINGS TO CONSIDER WHEN LOOKING TO ENTER INTO A PARTNERSHIP AGREEMENT
If you decide that your company should enter into a partnership agreement, there are a few things to consider. You want to make sure that both entities are clear on management duties.
Having a clear understanding of what each partner is legally allowed to do and what decisions each partner can make is key. If this is not decided before entering into a partnership agreement, it could put both businesses at risk.
You also want to consider having a plan. This includes both entering into the partnership agreement and exiting one. When entering into a partnership, you want to have a clear grasp of how responsibilities will be shared. Set restrictions that both partners can agree on.
Know what control and percentage that each partner has in the business. Also, if new partners enter the picture, there needs to be a way to assign percentages of stakes in the company.
In the event that you need to exit the partnership, you want to have this outlined, too. Stipulations for how partners can leave the business are important. You want to make sure the circumstances are clearly defined. Provisions to dissolve the partnership are needed if one entity within the partnership wants to end operations.
Again, partnerships can occur without anything in writing. Yet, in the absence of a written agreement, state statutes will have governance. It can be helpful to seek legal advice when entering into a partnership agreement.
A written agreement helps avoid potential inequity. Partners should have the ability to design the rules of the partnership to serve their best interests.
A GOOD PARTNERSHIP AGREEMENT CAN TAKE YOUR BUSINESS TO THE NEXT LEVEL!
No matter if a company is a start-up or an established business, partnership agreements can have a positive impact on the growth of your business. You want a contract that is well-drafted and that protects you from future disputes.
If you are looking for an experienced team of lawyers to help you draft a partnership agreement or other business contract, contact us today!